Georgian soldiers join new mission in Afghanistan
Georgian soldiers join new mission in Afghanistan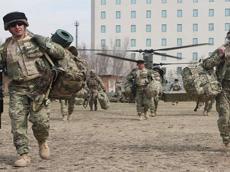 The latest squad of Georgian soldiers has arrived in Afghanistan to join the international peacekeeping mission alongside the soldiers from all around the globe.
The 31st Infantry Battalion of the 3rd Infantry Brigade of the Georgian Armed Forces will represent the country in the large-scale mission.
These soldiers are the latest Georgian peacekeepers to take part in the NATO-led Resolute Support mission as part of the United States military contingent.
Resolute Support is a follow-on mission from the International Assistance Security Force mission, in which Georgian troops together with international armies resisted Afghan terrorist groups, trained Afghan National Security Forces and assisted Afghans to rebuild government institutions.
The Georgian servicemen will embark on a six-month mission to protect the headquarters of the Resolute Support mission located in the Afghan capital city Kabul.
Following the official ceremony of the mission handover, the 31st Infantry Battalion will replace a United States Army unit by means of rotation in near future.
The Georgian parliament sanctioned the decision to participate in the Resolute Support Mission on December 26, 2014.