Int'l low-enriched uranium bank to be established in Kazakhstan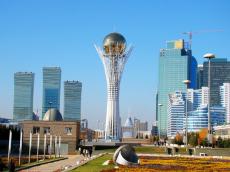 On August 27, 2015, the government of Kazakhstan will sign an agreement with the International Atomic Energy Agency (IAEA) on establishing an international low-enriched uranium (LEU) bank in the country in 2017, said the message of the Kazakh Embassy in Azerbaijan.
It will be located at the Ulba Metallurgical Plant (UMP) in Ust-Kamenogorsk (Oskemen), a city in north-eastern Kazakhstan.
The ceremony will take place in Astana and will be attended by delegates from countries that have supported the project, including the five permanent members of UN Security Council (China, France, Russia, UK, US), EU, Norway, Kuwait, the UAE.
IAEA Director General Yukiya Amano will sign the agreement on behalf of the organisation, while Minister of Foreign Affairs of Kazakhstan Erlan Idrissov will sign on behalf of the host country.
"The signing of this agreement is a significant step that will facilitate peaceful nuclear cooperation, an objective which Kazakhstan has worked tirelessly towards," Erlan Idrissov, foreign minister of Kazakhstan, said. "The LEU fuel bank is an important vehicle that will help create a safer world. I am grateful to the IAEA and to our funding partners for this opportunity."
The fuel bank will provide countries with reliable access to fuel for their nuclear energy plants.
Following the collapse of the Soviet Union, Kazakhstan was left with the world's fourth largest nuclear arsenal, which it renounced and dismantled over the first decades of its independence. The country has since consistently campaigned for an end to nuclear testing and supports a number of non-proliferation and disarmament initiatives.